The Giants are a cast of characters, and there video game counterparts are getting an update to match that.
Brain Wilson and the rest of the World Champion Giants are getting a digital makeover for Sony's MLB 11: The Show.
The game includes Wilson's full on crazy man beard, his arm cross tribute to his father for the end of the game, fuller more lushes hair for
Tim Lincecum
and more jolliness from
Pablo Sandoval
.
From Brian Wilson crossing his arms into an X and pointing to the sky in celebration after a save to the way Tim Lincecum's hippie hair flaps in the wind to Pablo Sandoval's quirky walk-up animation to the cyber kayakers in McCovey Cove, the Giants received an overhaul worthy of their new status as diamond kings.

Only thing missing is a cheat code to unlock The Machine.
There is some bugs to be worked out it looks like (unless the Giants have some news forthcoming):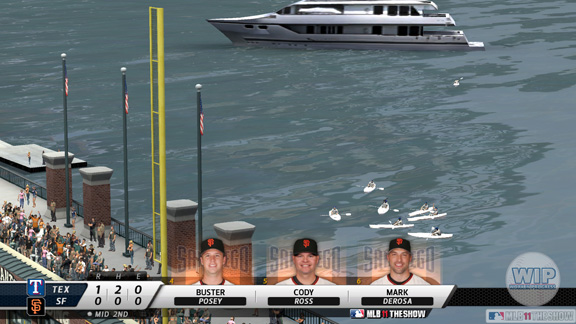 New Branding for the Giants? Or San Diego prank?
 Read more about MLB the Show
here.
---
If you're on Twitter you should definitely follow the
The Crazy Crabbers
. If you're not you should really consider joining, lots of good stuff going on there.