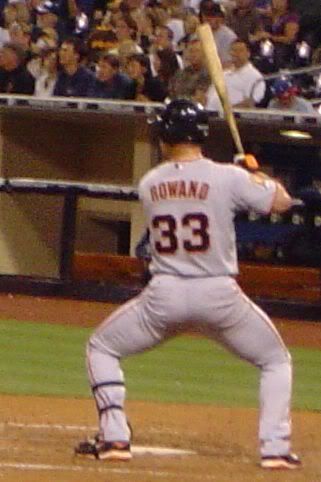 Aaron Rowand has always been a bit of a streaky kind of player but right now he is stuck in a major slump.
I would date the slump starting in San Diego before the slump Rowand was putting up good numbers and was worthy of the playing time he was granted. He was good enough that
I wrote a piece
lauding his achievements and said this season could be a continuance of his every third year tendencies. Well that now makes me look like an idiot and I want to figure out what has changed.
To start the season Rowand was putting up the best numbers of his Giants career and beginning to make people think that maybe the contract he signed wasn't the worst thing in the world. He was putting up a .321/.354/.564 line in 17 games and 82 plate appearances. He was keeping the strikeouts under control with a k% of only 15%, the biggest complaint is that he still wasn't taking walks with only 2 over the span.
Then something changed.
During the Slump (May 11th to June 1st) he has put up a .138/.167/.225 line. He has started in 20 of 21 games and got 84 plate appearances and produced 11 hits, 4 doubles, 1 home run against 24 strikeouts and only 3 walks.
What has come apparent from watching his approach and looking at his plate discipline statistics is that he is watching more strikes go by and swinging at more balls outside of the strike zone. This is where he needs to dedicate time to figure out how to get back to normal.
This season his swinging at 42.5% of pitches outside of the strike zone compared to his career average of 28.7%. For pitches in the strike zone he is swinging at 66.5% compared to 72.7%. To compound this he is making a lot of contact with the pitches out of the strike zone which is not a recipe for success unless you are Vladimir Guerrero.
Pitchers are adjusting to his approach and are feeding him more and more pitches out side of the strike zone. Currently only 49.8% of the pitches Rowand has seen are in the strike zone.
It is well established that Bruce Bochy will not give up on guys who have "proven track records" but it has to be getting to a point here pretty soon that some time on the bench is necessary. Rowand has seen his batting average fall 100 points in a month and is in a very obvious funk, but their is no movement to try to limit his playing time.
This kind of management is driving me nuts, if he was 23 instead of 33 he would have been sent packing to Fresno already. If he wasn't "a proven guy" he would have landed himself on the bench 10 games ago. For example John Bowker put up similar numbers to start the season (actually every single number is better) and after 12 starts it was deemed that he was not worthy of a starting position any longer only to reappear making spot starts for injured guys.
This needs to change, Bruce Bochy needs to give some more off days to Rowand who is a major drag on the already anemic offense while he works these kinks out.